40th WorldSkills Competition (2009) HK Delegate
I am honoured to be the Hong Kong delegate of the 40th WorldSkills Competition in the IT/Software Applications trade. I was ranked the 13th worldwide. (Click here to see the Press Releases)
WorldSkills is an Olypic-like competition but it focuses on skills. The 40th WorldSkills Competition took place on September 1-7, 2009. Over 900 Competitors from more than 50 countries competed simultaneously in 45 skill categories during four days of intense competition at Stampede Park (Calgary, Alberta, Canada).
The following is a group photo of the whole HK team: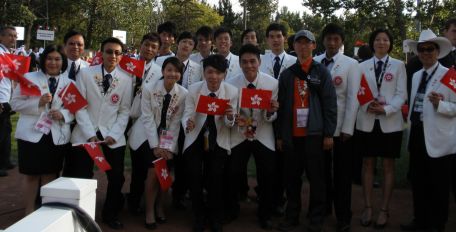 Other Honors and Awards
I have been lucky enough to receive the following awards...
| | |
| --- | --- |
| Date: | 2010 |
| Award: | Scholarship |
| Description: | (CityU) The Department of Computer Science Outstanding Student Scholarships 2010/11 |
| | |
| --- | --- |
| Date: | 2010 |
| Award: | 1st Runner up |
| Description: | IBM Inter-University Programming Contest 2010 |
| | |
| --- | --- |
| Date: | 2009 |
| Award: | Champion |
| Description: | IBM Inter-University Programming Contest 2009 |
| Photos: | |
| | |
| --- | --- |
| Date: | 2009 |
| Award: | Scholarship |
| Description: | (CityU) Department of Computer Science Achievement Scholarships 2008/09 |
| | |
| --- | --- |
| Date: | 2008 |
| Award: | Champion |
| Description: | 2008 Hong Kong Youth Skills Competition, Information Technology (Software Applications) |
| Photos: | |
| | |
| --- | --- |
| Date: | 2008 |
| Award: | 1st Runner up |
| Description: | 2008 Hong Kong Youth Skills Competition, Web Design |
| Photos: | |